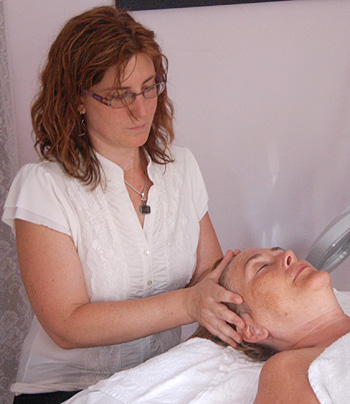 Erin Engelhard began her career as a massage therapist in 1994, upon completion of a 600 hour certificate program at the Connecticut Center for Massage Therapy. After working in a variety of settings she began to explore ways to complement her massage therapy practice. In 2001, She completed a Medical Massage advanced training at Hartford Hospital, also through CCMT. At the same time she began to explore her interest in Ayurveda, a traditional form of healthcare from India, and studied Ayurvedic massage at Kripalu Center for Yoga arts in Lenox, Massachusetts. In 2005 she completed an 800 hour advanced Esthetics training in Northampton, MA, to offer natural skin care services as well as massage. In 2006, She opened Jasmine Day Spa with the following mission:
to offer high quality massage therapy and skin care services using luxurious, synthetic-free, result oriented products.
to create a unique and relaxing experience with each service.
to support clients in feeling healthy, harmonious and beautiful.
to continue to study health and skin care from a holistic perspective, and share this information with clients.
Jasmine Day Spa was named after the jasmine flower as a symbol of purity, beauty, and strength. Jasmine flowers can be used to make an alcohol which is a natural preservative for skin care products. It's scent is a mood enhancer and a stress reducer. The peacock feather on the logo represents beauty with wisdom. Both the jasmine flower and the peacock are native to India, the home of Ayurveda.
Anika Hudson was drawn to massage therapy with the urge to help others. "Massage therapy quiets the mind, relieves pain, and relaxes the body. It can help us find our way back to self-awareness and our own intuitive healing."
Anika completed an 850 hour massage therapy certification course in Crested Butte, Colorado. She received special training in both Neuromuscular Massage and Somatic Mind Body Therapy. In addition, she has been trained in Swedish, Deep Tissue, Hot Stone, Thai Massage, Pregnancy and Infant Massage, as well as Chakra Balancing and Energy Work. Before moving to Brattleboro, she worked in spas in Colorado, Alaska, and Texas as well as a chiropractic office. She is currently fueling her passion for the alternative healing arts through a Plant Spirit Medicine apprenticeship.