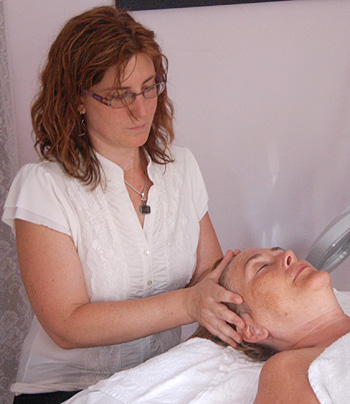 25 May

The Story of Jasmine

When I started Jasmine Day Spa, then Jasmine Massage and Skin Care, I had no idea how to run a business. All I knew was that I repeatedly got stellar feedback from my massage clients, and that there were no jobs for me in Brattleboro. So it was work for myself, or move, again. My son and I had moved many times, and I was aching to settle down and grow some roots.

We had moved back to the Brattleboro area from Connecticut, and I was taking prerequisite courses for a nursing program. I heard through a friend there was a woman who was renting space for healing arts practitioners in Brattleboro. The woman was Patti Newton, of Silver Moon Adornments, and the space was (and is still!) next door to her shop. I began to rent from her on a regular basis each month, sharing the space with a psychic and an astrologer. I had a sign that said "Get a Massage Today, Walk-ins Welcome" which I would put out front, then I would sit inside and wait for clients to come in. When I had free time, I would imagine what I would do with the space it if it were mine.

Over the course of almost a year, I had started to build a clientele and I decided nursing was not for me. With all the massage therapists in Brattleboro, I felt that in order to be successful, I would do well to go back to school for something to complement my practice. I had been eyeing a program in professional skin care for years, and decided to enroll in the Chameleons School for Esthetics advanced esthetics program in Northampton Massachusetts. At the same time, Patti Newton had decided to give up the space next door to her shop. The timing was good for all of us.

My training in esthetics took most of a year, and during that time I would periodically walk by the space next to Silver Moon and peer in the windows, wondering what was happening in there. It had been rented to a barber who rented it the entire time I was in school and never actually opened his business. The week I graduated from Chameleons, a for rent sign went up in the window. It was destiny.

The barber had done a third of the renovations exactly how I had imagined. The landlord agreed to rent it to me, and the following August, 2006, I opened Jasmine Massage and Skin Care, offering massage therapy, Ayurvedic bodywork, an
d facials using a natural skin care line.
In 2007 I trained with Dr. Hauschka Skin Care, and began to offer Dr. Hauschka treatments and products. In 2008, I was invited to Germany for an open house for Dr. Hauschka estheticians, where I participated in workshops, toured the gardens, and learned more about this amazing company.
After 7 years, I was very busy, and couldn't keep up with the demands of my business. I had explored the possibility of renting the space next door to mine in order to expand, and after a year and a half of imagining what I would do with it if it were mine, my imaginings again became reality. With the help of some hard working, talented friends and family, we created what is now Jasmine Day Spa.
It has been three years since the expansion, and I feel like we are just getting started. This year we will see the full fruition of our spa by opening our nail salon to offer non-toxic nail services, completing the signage on the outside of the building, expanding our energy work and skin care services, and completing our updated website.
I owe my success to lots of hard work, my love of learning, the support of my family and friends, and most importantly, to my amazing clients. I used to celebrate my clients by myself, by exclaiming excitedly after they left how much I loved our time together and jumping for joy around the shop. Now I get to do that with my staff, sharing my wonderful clients with them. So often, after a client leaves, you will hear one of us say "What a nice person he/she is!" or "Isn't he/she just so great?". We talk all the time about how much we love our clients.
We look forward to continuing to offer high quality spa services using natural products, creating a space for deep relaxation and renewal, learning more and sharing our knowledge of holistic self-care practices. Throughout the next year we will be expanding what we have to offer our community, and expressing deep gratitude for all our clients.