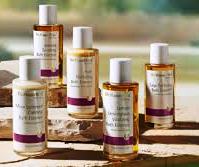 07 Oct

New Bath Essences from Dr. Hauschka Skin Care

Dr. Hauschka Skin Care is now offering four new Bath Essences; Moor Lavender, Lemon Lemongrass, Almond, and Rose. These new formulations join two classic favorites; the Sage Bath and Spruce Bath. Each scent has unique benefits for the skin and the mind.

The new Moor Lavender Calming Bath Essence has all the therapeutic qualities of the old Lavender Bath and more. Lavender calms redness and sensitivity. Almond and jojoba oil moisturize the skin and give this new formulation a rich, creamy consistency. Moor extract along with horse chestnut seed and horsetail extracts protect and fortify the skin. The moor extract lends a slightly earthy, grounding scent to the lavender. The result is a heavenly bath essence which calms and strengthens the skin while clearing the mind and relaxing the body.

Dr Hauschka has recommended using the Lavender Bath also as a facial compress to enhance the cleansing process. The new Moor Lavender Bath Essence can be used in the same way. In fact, so can all of the new Bath Essences!

The new Lemon Lemongrass Vitalizing Bath Essence contains lemon peel extract, lemongrass extract and lemon essential oil which tone the skin, reducing the appearance of cellulite. The scent is uplifting and energizing.

The new Almond Soothing Bath Essence has a soothing effect on dry, itchy skin. The complex fragrance of almonds and oranges quiets the mind, instilling feelings of warmth and comfort.

The new Rose Nurturing Bath Essence contains rose essential oil, rose petal extract, and rose water to soothe dry sensitive skin. For those who love the soft, luxurious scent of rose, this is an exciting new addition.

The Sage Purifying Bath Essence remains almost the same except for a slight scent difference. It's purifying qualities awaken the senses while refreshing the body. It is ideal for soothing tired, over worked feet. As a facial compress is can soothe and purify blemished skin.

Spruce Bath remains the same, and will be offered seasonally in a 1 oz. size bottle, a perfect gift! The Norway Spruce essential oil brings warmth and comfort while encouraging deep breathing. This bath is especially beneficial in the colder months. It's great before bed and for tired, sore muscles.

The four new bath essences join complementary body products creating fragrance families of Almond, Lavender, Lemon lemongrass, and Rose.

Dr. Hauschka Bath Essences, and their complementary body washes, oils and moisturizers, are available in our Beauty Boutique. We are open Monday-Friday 10-6 Saturday 10-4.